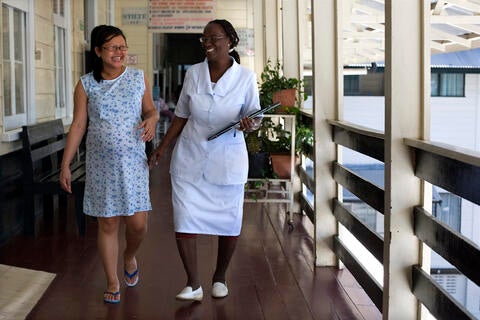 UNFPA, the United Nations Population Fund promotes the right of every woman, man and child to enjoy a life of health and equal opportunity. It does so by promoting sexual and reproductive health and rights, gender equality and equity and supporting the use of population data in the formulation of national policies and programmes.
The UNFPA Sub-Regional Office for the Caribbean serves 22 countries and overseas territories in the English and Dutch-Speaking Caribbean. These include: Anguilla, Antigua and Barbuda, Aruba, Bahamas, Barbados, Belize, Bermuda, British Virgin Islands, the Cayman Islands, Curacao, Dominica, Grenada, Guyana, Jamaica, Montserrat, St Kitts and Nevis, St. Lucia, St. Maarten, St. Vincent and the Grenadines, Suriname, Trinidad and Tobago and the Turks and Caicos Islands.
UNFPA at a Glance
The Fund has provided support to the Caribbean since 1969 and remains the largest international source of population assistance to governments, non-governmental organizations and civil society. Two (2) frameworks guide its efforts: The Programme of Action adopted at the International Conference on Population and Development (ICPD) held in 1994, and the Sustainable Development Goals (SDGs), which the international development community committed itself to in the year 2015.The Fund provides support to regional governments, non-governmental organizations and civil society to achieve national priorities. Areas of support include:
Promote reproductive health services to improve the lives of women and young people including adolescents.
Provide information and services to help couples plan their families
Provide information and services to prevent, care for, and treat sexually transmitted infections, including HIV
Provide information, education and counselling, as appropriate, on human sexuality and reproductive health
Design and support creative policies and programmes that promote the health and inclusion of adolescents and young people
Promote gender equality and equity
Prevent violence against women and take other actions to eliminate gender-based violence
Facilitate training of health-care professionals and provide equipment and supplies for ante-natal, safe delivery, and post-natal care
Raise awareness of women's specific strengths, vulnerabilities and needs in relation to a variety of issues, such as emergencies/natural disasters, climate change and migration
Speak up for human rights
Develop capacity in data collection and analysis to help governments track and analyze population trends in areas such as fertility, mortality, migration and ageing
Support countries in forecasting, planning and procuring reproductive health commodities such as contraceptives to ensure that the supply adequately meets demand (reproductive health commodity security).