Ensuring rights and choices for all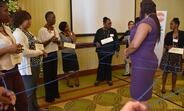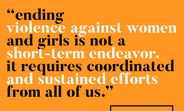 25 November 2018
Joint UN Statement on International Day for the Elimination of Violence Against Women
Statement by the Heads of UN agencies, UNFPA, UNDP, UNICEF and UN WOMEN, calling for solidarity with survivors and survivor advocates and women's human rights defenders who are working to prevent and end violence against women and girls. To commemorate this year's International Day for the Elimination of Violence Against Women
24 October 2018
GUYANA: UN Day 2018 Celebrations
UNFPA Liaison Officer joined youngsters and the UN Resident Coordinator Mikiko Tanaka on the 24th October at the UNDP Country Office in Guyana to celebrate United Nations Day. The UN RC  invited participants to focus on Gender Equality as a priority area for the #Youth2030 Agenda.

Hurricane Irma made landfall across the Caribbean on 6 September 2017. Reported as one...

Gender-based violence is an umbrella term for any harmful act perpetrated on the basis of...