You are here
Main events calendar
Past Events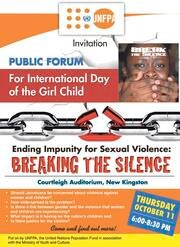 11 October 2012 - 11 October 2012
worldwide
Day of the Girl Child today!
11 October marks the first International Day of the Girl Child.
UNFPA launches the global report "Marrying too Young: End Child Marriage" at 11am NY time at a press conference with our Executive Director and Archbishop Desmond Tutu. UNFPA also hosts the opening of a photo exhibit renewing global attention to the issue.
Details
1 October 2012 - 1 October 2012
The Jamaica Conference Centre. 14-20 Port Royal Street. Kingston
Ageing in the Twenty-First Century: A Celebration and a Challenge
Details
31 August 2012 - 2 October 2012
worldwide
UNITED NATIONS for Suriname – Photo Contest
The United Nations in Suriname is holding a photo competition for all residents in the country. If you are 12 years old or above and have good photography skills, this is your chance to share with us your vision of your neighborhood, village, community or city in the country through a UN values lens.
Freedom; Dignity; Solidarity; Justice; Protection; Human Rights; Security; Empowerment; Sustainability; Progress; Equality; and Peace applied to the areas of work of the UN in Suriname is the theme of the photo competition.
Details
Pages