Country Profile [i] [i]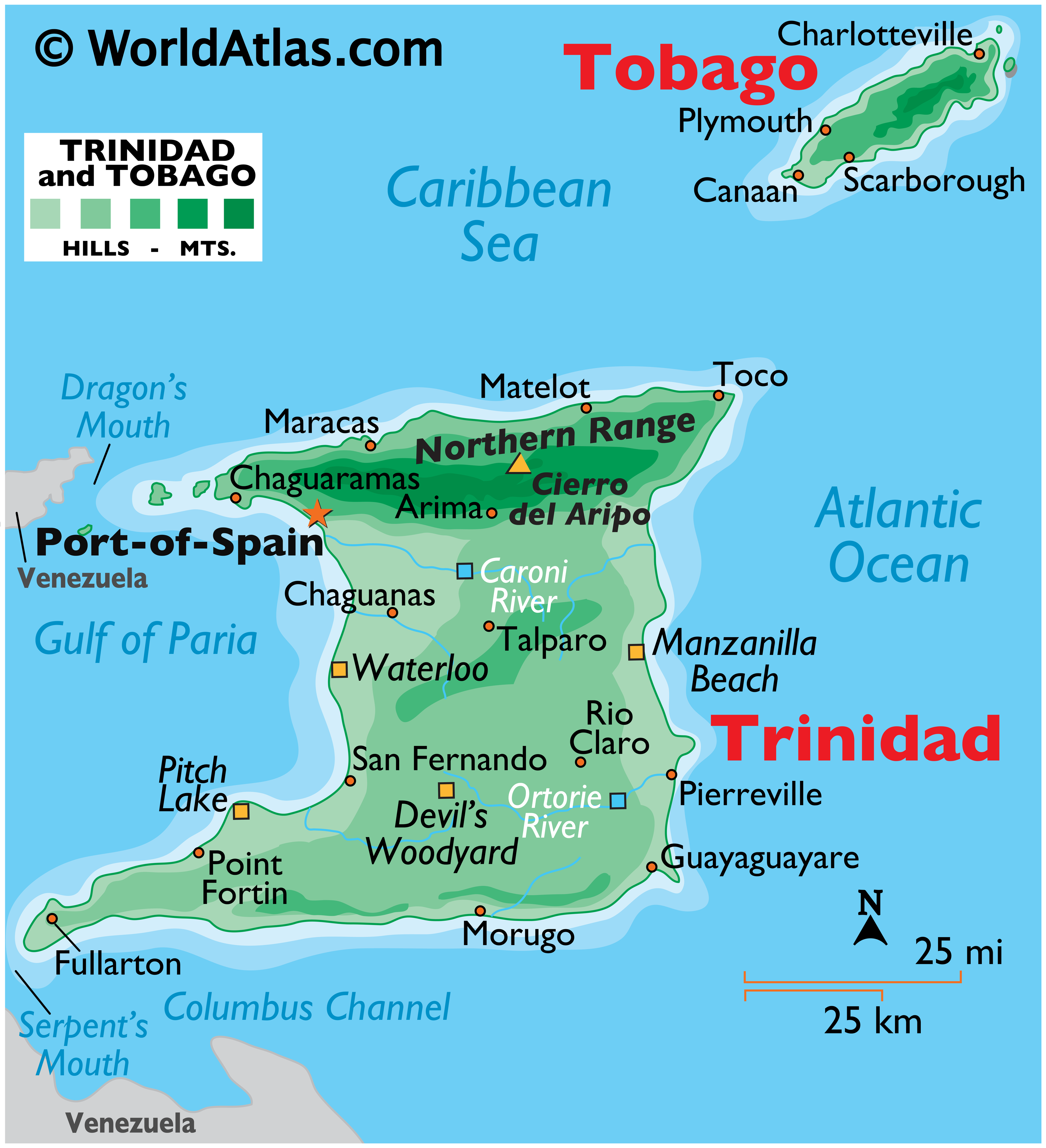 Area

5,128 square kilometres

Currency

Trinidad and Tobago dollar. TT Dollar floats against the US Dollar. TT$ 6.30 (fluctuating) = USD 1.00 (October, 2009)
International credit cards and Traveller's Cheques are widely accepted

Official Language

English

Population

1, 275,705
Male 639, 766
Female 635, 939
40% African Descent, 40% East Indian, 20% Mixed (Middle Eastern, Chinese, Middle Eastern ancestry)

Head of State

His Excellency Professor George Maxwell Richards President of the Republic of Trinidad and Tobago

Head of Government

The Honourable Kamla Persad-Bissessar Prime Minister of the Republic of Trinidad and Tobago

Geography

The Republic of Trinidad and Tobago are the southernmost isles of the Caribbean archipelago. Trinidad is located 10 1/2° N, 61 1/2°W Tobago is north east of Trinidad at 11° N, 60°W. The islands of Trinidad and Tobago were once connected to the South American continent and the islands flora and fauna reflect this historical link.

History

The explorer Christopher Columbus encountered the islands' first inhabitants, the Amerindians in 1498. Trinidad remained part of the Spanish empire up until the arrival of the French in the 1780s. The island was then captured by the British in 1797 and became a British colony in 1802. The Dutch, British, French and Latvian settlers each ruled Tobago giving a unique twist to the cultural diversity on the island. However, Tobago was controlled primarily by the British from 1762 and the two islands were enjoined as one Crown colony in 1889. Trinidad and Tobago achieved independence from Britain in 1962 and became a republic nation in 1976.

Climate

Tropical
Dry season from January to May
Rainy Season from June to December

Per Capita GDP, 2007 (US$)

$ 15,905.
Brief History of the UNFPA Sub-Regional Office for the English and Dutch Speaking Caribbean – Trinidad & Tobago Branch Office (TTO)
Between the period 1995 -1998 a UNFPA Sub-Regional Office was located in Port-of-Spain Trinidad. Staff at that time comprised an Information Education Communication (IEC) Advisor, a Reproductive Health (RH) Advisor and an Administrative/Finance Assistant. In 1998, the Advisory posts located in Trinidad & Tobago (T&T) were moved to the Mexico Regional Office and the office in T&T was closed down. In September, 2007 a UNF PA Office was re-opened in T&T in the form of a Liaison Office and the Liaison Officer for T&T (position which later became Assistant Representative) commenced duties at the UN House Building on Chancery Lane , Port-of-Spain. A Programme Assistant was hired in January 2008 and an HIV/AIDS Programme Officer came on board in October 2008.
At present, UNFPA TTO comprises two staff members, the Assistant Representative and the Programme Assistant.
UNFPA TTO works in all three core components of UNFPA's programming, i.e. Sexual and Reproductive Health (SRH), Population and Development Strategies (PDS) and Gender Equality and Equity. Our partners include (but are not limited to) the following government, as well as non-governmental organizations: -
Ministry of Health – Population Programme Unit & HIV/AIDS Coordinating Unit;

Ministry of Gender, Youth and Child Development – Gender Affairs Division;

Ministry of National Security – Citizen Security Programme;

Ministry of the People and Social Development - HIV/AIDS Coordinating Unit;

Ministry of Planning and the Economy – Central Statistical Office;

Family Planning Association of Trinidad & Tobago (FPATT);

Population Services International/Caribbean (PSI/C);

Young Women's Christian Association of Trinidad & Tobago (YWCA) ;

Young Men's Christian Association of Trinidad & Tobago (YMCA) ;

Caribbean Masculinity Network (CARIman) Trinidad & Tobago Chapter;

Women's Institute for Alternative Development (WINAD);

Advocates for Safe Parenthood Improving Reproductive Equity (ASPIRE);

Trinidad & Tobago Association of Midwives.
UNFPA TTO is also the current Chair of the Gender Theme Group of the UN System in T&T. The Gender Theme Group of the United Nations System in Trinidad and Tobago's role is to support implementation and monitoring of the United Nations Development Assistance Framework (UNDAF) for the country with specific focus on UNDAF Outcome on Gender Equality, and gender mainstreaming in all agencies that comprise the UN Country Team in Trinidad and Tobago.
UNFPA also currently sits on the following Joint UN Teams/Theme Groups in T&T –
Joint Team on HIV/AIDS;

Communications Group;

Operations Management Team (OMT);

Security Management Team (SMT);

MDG 1 Theme Group;

Social Statistics Group (Sub-Group of MDG 1 Theme Group);

United Nations Emergency Technical Team.