About Barbados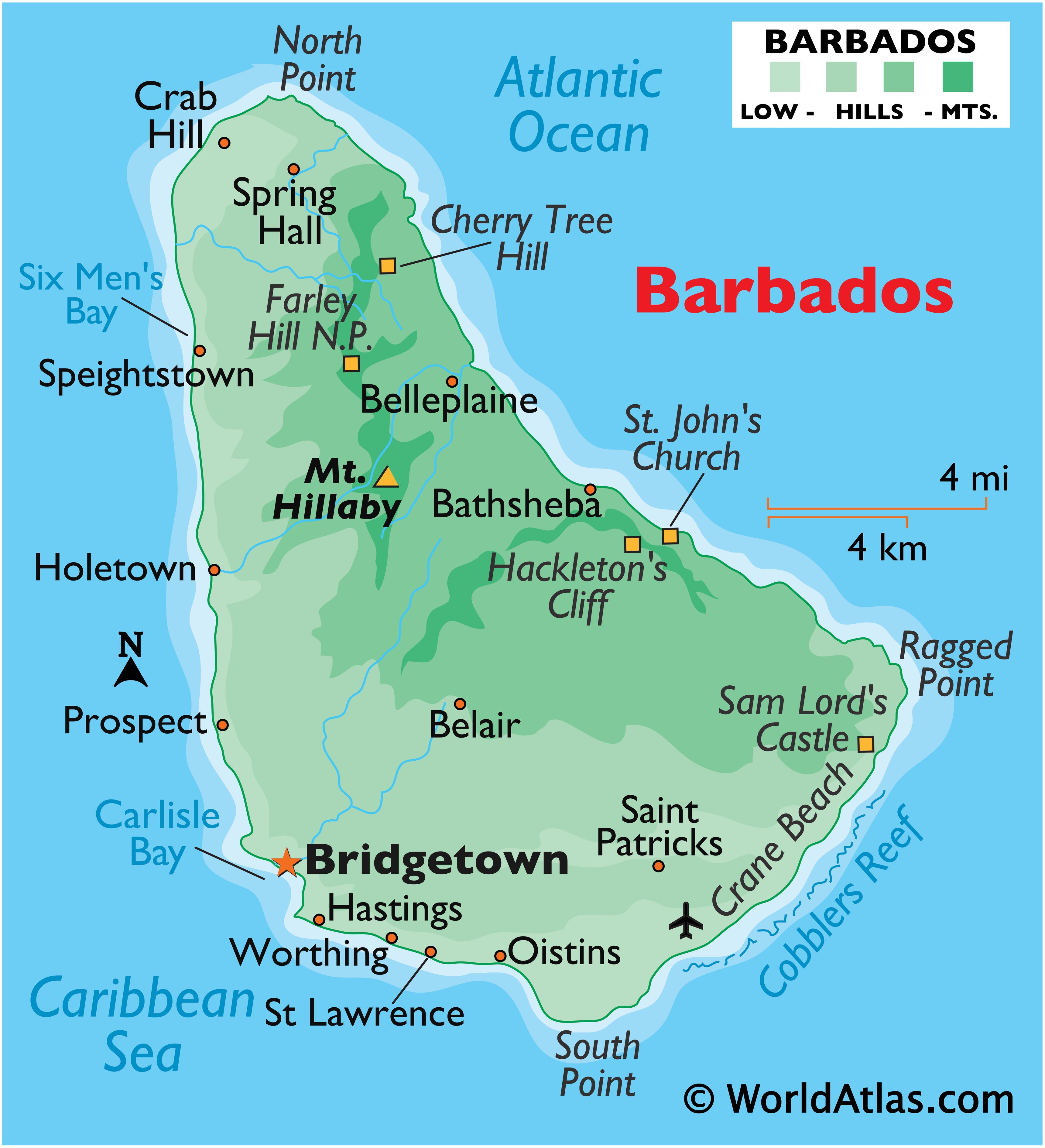 Barbados, the most easterly of the Caribbean chain of islands was first settled by the British in 1627 and remained a British colony until internal autonomy was granted in 1961. The island gained full independence in 1966 but maintains ties to the British monarchy as a member of the Commonwealth.

Population
273,000 (2006); Workforce: 146,800 (2006)

Economic Indicators
Real GDP at Factor Cost: US$ 2.5 B (2005)
Per Capita Income: US$ 9, 300 (2005)
Unemployment: 8.7% (2006)
Average inflation: 2.8%

Geography & Climate
It is a relatively flat island rising west to east in a series of terraced to its highest point Mount Hillaby, which is 1100ft above sea level. On the western side of the island, the sea is relatively calm. However, on the eastern side where the waves roll in from the Atlantic, the coast is much more rugged. The Barbados climate is tropical with temperatures ranging from 21 to 31 degrees Celsius and a rainy season from June to October.

Currency
The currency of Barbados is the Barbados dollar which has an exchange rate of BDS$ 1.98 = USD$ 1.00.

Health Care
The island's population has easy access to a comprehensive health care system which offers preventative and curative services. It is recognized as having the most modern medical facilities in the Eastern Caribbean with medical services being provided by the two major hospitals: The Queen Elizabeth Hospital and Bayview Hospital with several other well equipped clinics, health centres and nursing homes located around the island.

http://www.tourism.gov.bb/about-barbados.html
http://www.bhta.org/index/barbados.html


UNFPA in Barbados

In 2004, UNFPA opened an office in St Lucia to facilitate the implementation of the OPEC Fund/UNFPA/Government of St Lucia project "HIV/AIDS Prevention among Youth in Especially Difficult Circumstances". The project which was also implemented in Guyana and Belize, ended in 2006.

A decision was made to move the UNFPA office to Barbados to facilitate a deeper partnership with the UN Sub-Regional Team for Barbados and OECS (Organization of Eastern Caribbean States) and inter-agency collaboration with other UN agencies.
Priorities for the UNFPA programme managed through the Barbados Office:

1. Sexual and Reproductive Health
• Improving reproductive health literacy among adolescents
• Strengthening Sexual and Reproductive Health counseling services for youth
• Development of model legislation on Adolescent Sexual and Reproductive Health and Rights with technical support from the Faculty of Law of the University of the West Indies
• Establishment of a sexual and reproductive health programme for youth with disabilities
• Strengthening national capacity in reproductive health commodity security
• Development of sexual and reproductive health plans and policies

2. Gender
• Strengthening the Health Care Sector Response to Gender-Based Violence
• Support to masculinity initiatives aimed at behavior modification in relation to gender-based violence and HIV prevention
3. Population and Development Strategies
• Capacity building in census data analysis and dissemination
• Technical support to strengthen Administrative Data Collection and Analysis on Adolescent and Youth Sexual and Reproductive Health

The UNFPA office in Barbados is staffed by an Assistant Representative (AR) and a Programme Assistant (PA). The AR has overall responsibility for the management of the programme and the operations of the office while the PA provides support to the AR in these functions.